As 2021 nears its completion and we prepare for 2022, we're taking a moment to reflect on what we have achieved over the past 12 months 🥂
We continued to grow our client base and now provide Fundipedia data platform and consultancy solutions to firms with a combined AUM of over

US $4 trillion 

🎉

We have quadrupled annual recurring revenue and a onboarded a raft of new global (and incredibly happy) clients. A recent client quote from a global asset manager: "Thank you again for your team's outstanding partnership which we look forward to maintaining going forward.".

💪

We formed 

6 new partnerships 

with best-in-class market data and technology providers including

Deloitte

, helping us deliver Fundipedia to even more asset managers

🤝

Launched a

Common ShareClass Register

to meet the needs of

new FCA regulation in partnership with the Investment Association

🚀

We maintained an employee NPS score of over 50% and adapted the business to support work from anywhere while maintaining our ISO 27001/Cyber Security credentials 🎯

Recognised on the

WealthTech100 list

🏆

New partnerships
We're proud to work with some of the most innovative organisations in the financial services industry to holistically understand industry pain points and solve complex problems for asset managers.  Our most recent partnerships include:
Head to our partners page to read more about Fundipedia partnerships.
New product features
Fundipedia has been significantly enhanced in 2021 with much more planned for 2022.  We build out new functionality to meet regulatory needs and based on client feedback. Some of the enhancements our clients have raved about include
Vendor data reconciliation to ensure data accuracy across the market
Automatically reconcile fund and product data with any dissemination platform, including Morningstar, Bloomberg, and Refinitiv and many more.  Fundipedia's unique First Responder functionality ensures individuals with the ability to quickly resolve issues are notified quickly and accurately every time.
A unique side by side view shows a summary of all the data reconciliation issues across the market for easy identification.
Automated product development via workflow
The product development process is one of the most collaborative and iterative processes in the firm and as a result most likely to fall over or encounter delays if it's not properly managed.
To address this problem, we enhanced the existing Fundipedia workflow to allow workflows to be created that automate the process of launching a new fund.
Our clients can now document their product development process in Fundipedia so that it's captured and followed accurately and efficiently every single time.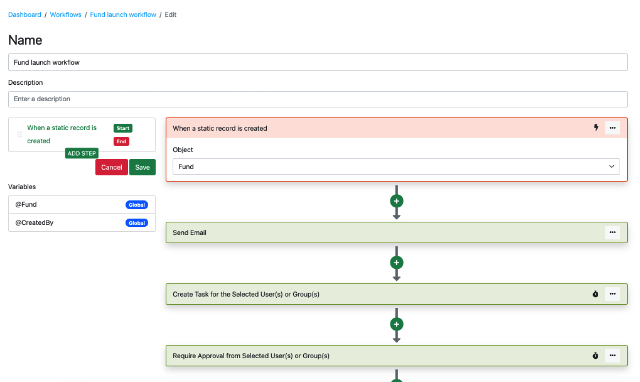 Even more powerful data controls
Fundipedia's suite of data quality controls, rules, and validation have been extended to provide even more evidence that our clients are taking the quality and accuracy of their data seriously.
Record Templates
Not all data items are required or applicable for certain records. For example, a fund domiciled in the UK may require additional fields to be populated compared with that in Luxembourg. To reduce the amount of data that needs to be entered, the user interface will hide fields for a record if they are not applicable based on admin user defined rules.
Enhanced data lineage for infinite data context and insight
Fundipedia now stores and reports on a wide range of additional context for data, allowing our clients to see their data and all the business information associated with it in one trusted location in as many data meta properties as they require.
Using this our clients now understand both their data, and more importantly how and where their data is being collected from and disseminated downstream.
What's in store in 2022?
We've already drawn up plans for 2022 that will build on 2021's incredible momentum.
The launch of two new Fundipedia products:  A suite of enhancements to the Fundipedia platform will create two new products in 2022, one with a focus on NAVs, and another that targets regulatory reporting around ESG. We can't wait to share them with you!
Continue to invest in our company culture and corporate governance: We understand the importance of ESG to our clients and their investors and it is at the forefront of our mind too. We will be investing in areas of the business to ensure that we align our success with long term sustainability.
We're continuing to grow: Check out the various opportunities available to join our work from anywhere teams.  Our sales, implementation and product teams are always looking for smart ambitious people to join them!
We can't wait to start 2022, but in the meantime we wish you all a Merry Christmas and a Happy New Year. 🎅🏻