Accelerating your data potential
Managed Services
Our managed services unlock the full capabilities of the Fundipedia platform while offering comprehensive data management support.
Whether you require short-term assistance or long-term support, our skilled team is ready to assist and enable you to stay focused on your core business while we optimise your data management processes and controls.
Your Dedicated Service Desk
Control Tower
Control Tower provides an extension of your account management team through our data experts over the long-term. It's an ongoing partnership designed to fully optimise your data management operations.
Areas where we can add value:

Dynamic Data Monitoring
Identification and resolution of feed discrepancies
Custom Reporting
Actionable insights into data performance

Reconciliation
Ensuring accuracy of market data

Validation Optimisation
Controls tailored to your data model

Data Feed Management
Setup and maintenance of BAU data feeds
Regulatory Updates
Proactive updates to reporting standards
With Control Tower, you're not just buying a service. You're investing in a partnership that supercharges your data management operations.
Project Support When You Need It
Co-Pilots
Co-Pilots provides flexible consulting and support for your unique needs. Get targeted support to efficiently tackle data projects – ensuring continuity during critical times.
It's the ideal solution for a range of projects such as:
Implementing regulatory and compliance changes
Adding new products, reports and other outputs to the system or setting up integrations
Data model and validation review and updates
Annual review of controls and data attestation
Optimising system performance and configurations
Enhancing reporting capabilities, analytics and MI

Short and Long-Term Support
From 10-day projects to ongoing engagements

Annual Pre-Planned Days
Allocate support yearly for key initiatives

Emergency Assistance
Critical help during unexpected situations
Benefit from our team's expertise, wherever you are on your data journey

Accelerated efficiency
Our skilled team drives operational efficiency by managing key processes

Increased agility
Our flexible support model scales to meet your evolving business need

Enhanced insights
Custom reporting and analytics provide actionable insights for informed decisions

Reduced risk
From 10-day projects to ongoing engagements

Improved integrity
Proactive monitoring and reconciliations enhance downstream data accuracy

Ongoing optimisation
Regular reviews and tuning of validations keep controls updated
people you can trust
Our Skilled Team
Our team has decades of combined experience across technology and asset management. We assign specialists based on your needs and objectives.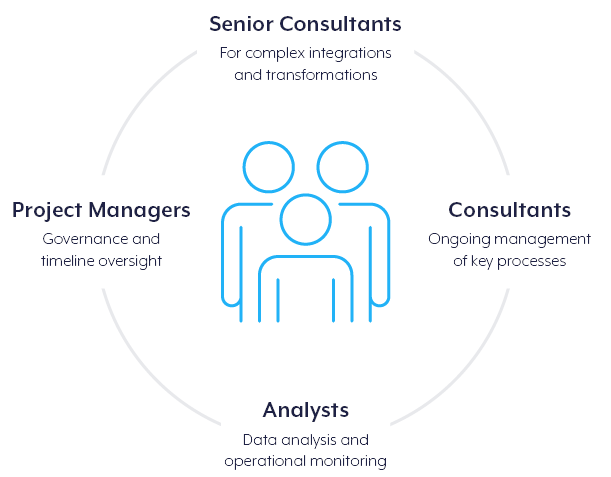 get in touch
Find out more
Break-free from resourcing constraints and drive your asset management business ahead of the competition with Fundipedia's state-of-the-art managed services.